Tencent America
more
Located in Palo Alto, California, Tencent America is dedicated to bring high quality and engaging gaming and mobile experiences to our users. We are small and nimble, but growing rapidly and looking for top talent to propel us forward. Combining the results-oriented nature of a startup with the resources of a profitable and leading internet company, Tencent America offers a unique opportunity for aspiring individuals to thrive.
We offer competitive compensation, fully paid health benefits, on-site gaming (of course), and truly value our team members and their professional growth. Come meet the people who make Tencent America a great place to work!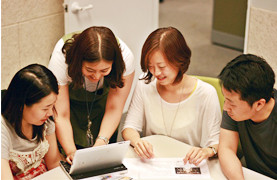 Tencent Korea
more
Founded as a field office in 2006 with 1 employee, Tencent Korea has grown to more than 20 people and been responsible for bringing top quality online games to China such as Dungeon Fighter and Crossfire. Tencent Korea has also started publishing Chinese games in Korea, its first being the web game, Seven Heroes.
While continuing to strengthen its role of securing top quality internet content for the China market, Tencent Korea will also expand into finding content for Tencent to publish in the global market as well as pursue other business opportunities.